The 1st transformable daily carry
Switch to cargo mode by wrapping extra carry with the front cover. Or transform the cover itself in a tote bag using the backpack in slim mode.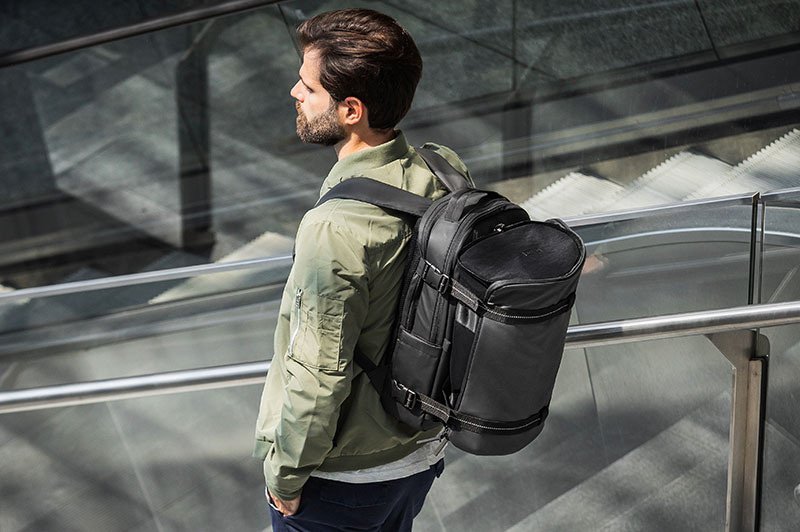 SLIM for office, CARGO to commute, TOTE for shopping
Adaptable to all daily journey needs: stays slim and minimal in office, turns cargo while commuting to free your hand from extra carry, splits in two for shopping trips.
Laptop Sleeve
---
Back padded sleeve to keep laptop and tablet safe.
A ton of pockets
---
Fast access front pocket, 12 inside pockets.
Secret back pocket
---
Fast access hidden pocket for documents, money or phone.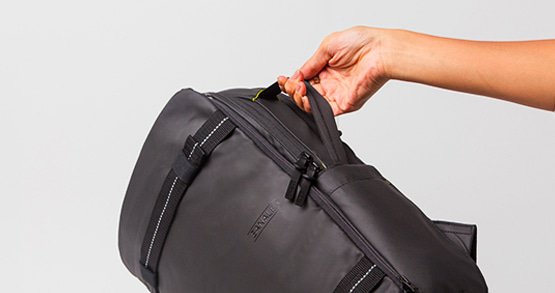 Side handle
---
Use the extra handle on the left side to make your way through the crowd.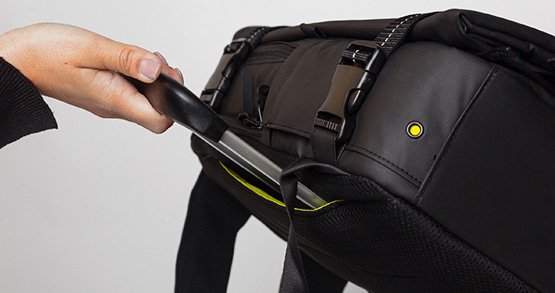 Back sleeve for suitcase
---
Secure your backpack to the handle of your luggage while rushing to your gate.
Detachable tote bag
---
Unzip the front cover and transform it into a tote bag by simply snapping the buckles. Easy detachment also allows you to use the backpack in slim mode.
Bottle sleeve
---
The elastic design will completely adhere your bottle to the side of your backpack and free your hands.
Sternum strap
---
Easily adjustable to your comfort.
Glasses Loop
---
Put you glasses in the loop and keep your hands free.
Wrapping front cover
---
Switch to cargo mode: open the front cover and securely wrap extra carry items.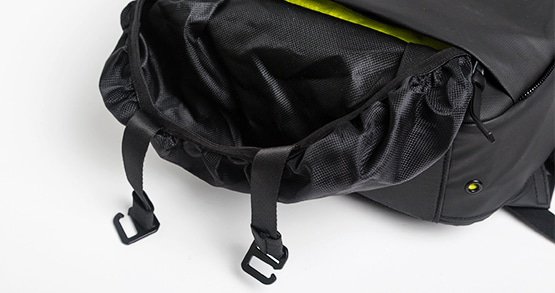 Extra supportive cover
---
We added an extra support to secure your carry even more safely. Prevents extra carry items from falling when wrapping cover is in use.
Foldable gym bag (INCLUDED)
---
Compactable and perfectly sized to carry all basic gym belongings (shoes, towel, clothes, etc)
---
Shop plastic free
A big detachable tote bag at your disposal to fill with food or stuff during daily shopping. Make the most of it and avoid using plastic and paper bags.
---
SUCCESSFULL FUNDED ON KICKSTARTER
Received the Pro with gym bag. Overall, I like it. My intended use is daily commute carrying a laptop and lunch and weekend commute carrying clothes, food and misc items in addition to the laptop.
Attila on Kickstarter
I got mine and love it! It's awesome!
Tharso on Kickstarter
The bag, ARRIVED!! looks good, it is what they said it would be.
Ratheen on Kickstarter
MATERIALS AND COMPONENTS
Premium coated fabric
YKK Zipper
DIMENSIONS
Weight: empty 3lbs (1,4kg)
Volumes
Main compartment volume 23 liters
Suggested wrapped volume 20 liters
Tote bag: 8 liters
WATER RESISTANT
Thanks to our premium selected fabric, the URBAN backpack is water resistant!