Protection Smartphone connected
Connect Silver Mask 2 to your device with the integrated NFC technology through the BANALE Web App and constantly monitor the filter lifespan.

How to use Silver Mask 2
Silver Mask 2 is designed to fit to any face-shape, thanks to a system of adjustable laces that adapts to the face.
Silver Mask 2 is easy to wear in multiple ways, depending on your needs. Choose the Ear-Mode for a firm grip, or Head-Mode for greater comfort when wearing with a helmet.
To connect Silver Mask 2 to your mobile phone, make sure you have activated NFC. Then put your phone close to Silver Mask 2 and start browsing through our Web App, where you can monitor the lifespan of your filter. You will be notified when the time comes to replace it.
Find out more
NFC technology
Pair Silver Mask 2 to your smartphone, thanks to cutting-edge NFC technology. You can access our Web App to monitor how long you've been using your filter and see the percentage of remaining usage, so you can take full advantage of the filter capacity. Once the filter has expired, you can purchase a refill right from the App.
Silver Layer
Coated with Antibacterial Silver (Ag) to further improve protection by neutralizing viruses and bacteria before they reach the inner filter.
ViralOff® treatment
We boosted the protective capabilities of Silver Mask 2 with two specific treatments: ViralOff®treatment eliminates 99% of the viruses the mask encounters, and the water repellent treatment which blocks incoming droplets.
Replaceable filter
The replaceable filter has been redesigned to include two new improvements: inner padding in memory foam for a better seal and to reduce fog when wearing the mask with glasses – both prescription and sun lenses; we've also added a memory foam ring around the valve, for greater comfort when wearing Silver Mask 2.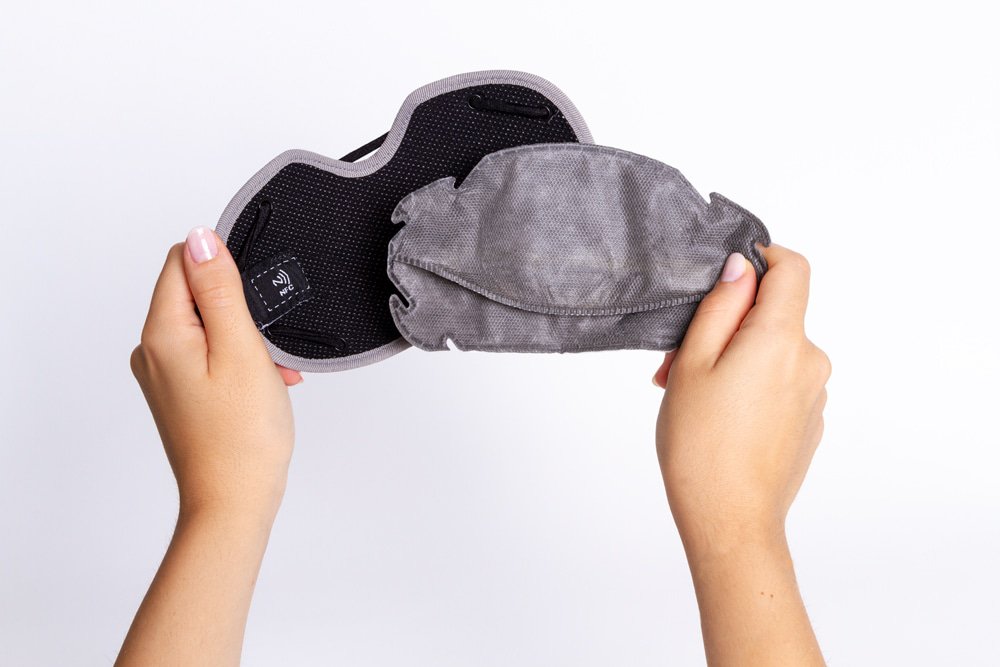 Wearing modes
You can find the ideal fit for your face by choosing between two different wear modes - Ear-Mode for a firm grip and Head-Mode for greater comfort with the helmet - to ensure a proper seal for your Silver Mask and a more comfortable experience.
Banale Design
Comfort maker

Made in Italy
Original design for comfort and protection

Reusable - Avoid Disposables